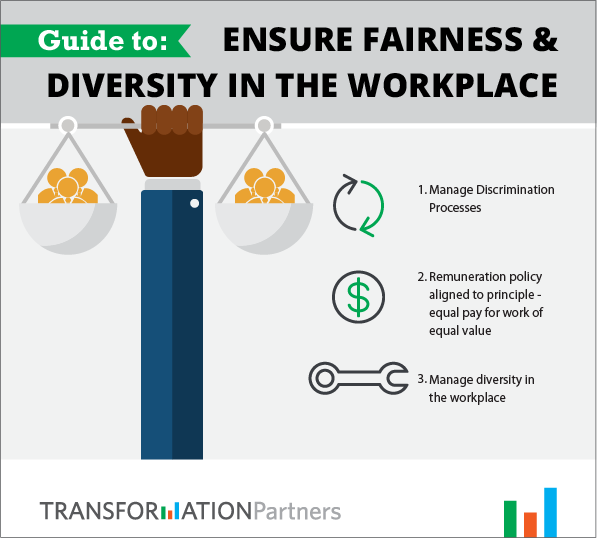 Section 5 of the EE Act (as amended) requires that every employer must take steps to promote equal opportunity in the workplace by eliminating unfair discrimination in any employment policy or practice.
Section 6(1) of the EE Act (as amended) prohibits direct or indirect discrimination against an employee, in any employment policy or practice, on the following grounds: race, gender, sex, pregnancy, marital status, family responsibility, ethnic or social origin, colour, sexual orientation, age, disability, religion, HIV status, conscience, belief, political opinion, language, birth or any other arbitrary ground.
Given the above, it is therefore deemed prudent for the Assigned Senior Manager to facilitate the following:
Review and update the grievance policy to ensure the procedures to deal with employment equity discrimination issues are incorporated
Review all other human resources policies (Recruitment, Induction, Training & Development, etc) to ensure that these do not contain direct or indirect discriminatory clauses
The Assigned Senior Manager must then ensure that all stakeholders (line managers, employees, etc) are trained on the updated grievance policy and other HR policies. The Assigned Senior Manager must further monitor EE related grievances and report worrying trends to the CEO.
Equal work for equal pay



In the amended Employment Equity Act of 16 January 2014, section 6 now includes subsections 4 and 5 relating to equal work for equal pay.

The new Regulations of 1 August 2014, prescribe the criteria and methodology for assessing work of equal value.
The Regulations prescribe (Section 3) that employers must take steps to eliminate differences in terms and conditions of employment, including remuneration of employees who perform work of equal value.

The Assigned Senior Manager for Employment Equity must ensure that the company's remuneration practices do not result in employees who do work of equal value have different conditions of employment or salary levels.
The annual income differential statement (EEA 4) provides a high level template to identify salary differentials by race and gender. This is not a sufficient level of analysis to identify income differentials in the company. The analysis should be done per job title and grade to identify any potential unfair discrimination.
In the example below we plot the average salaries per employee race and gender by years of service and salary. If we just compare Coloured Males to Coloured Females, you can determine that although Coloured Males have on average just over three years of service in this position,
compared to Coloured Females who have on average more than four years of the service, the Coloured Males earn more than R100 000 per annum more than Coloured Females.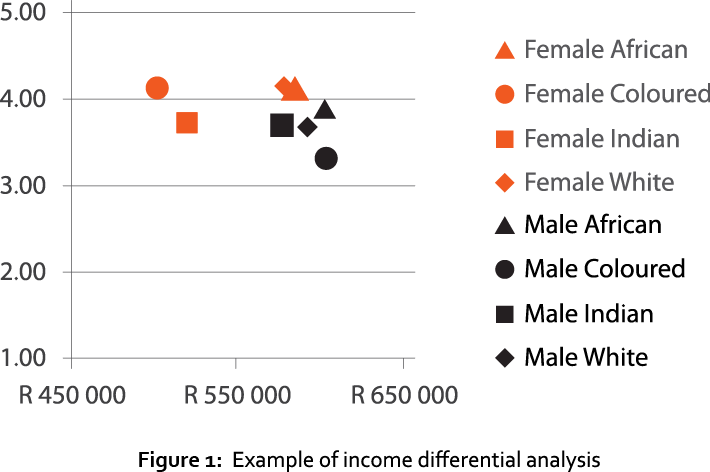 The example does not necessarily indicate systemic unfair discrimination. When the reasons for income differentials are investigated, you may find the Coloured Male employees have more experience external to your company (they were recruited from outside the company), could have better qualifications or have better performance ratings.
As the Assigned Senior Manager for employment equity, you should:
Ensure that the company's remuneration policy contains the criteria of the EE Act to uphold the principle of equal pay for work of equal value.
Ensure the remuneration policy is adhered to by conducting regular pay audits, keeping detailed records of the reasons for income differentials and the reasons for any anomalies in terms of pay that may be found.
Take steps to address any unfair discrimination that our found in terms of equal pay for work of equal value.
Monitor all employee grievances related to income differentials and ensure that these allegations are properly investigated and formally resolved.
The income differentials in your company may represent a significant financial risk to the organisation as some of the cases may be historical and therefor accumulate the effect over time. The company's Top Management should be made aware of the financial implications and the imperative to correct any income differentials, which may be construed as unfair discrimination as soon as possible.
Implement reports and decision support mechanisms to assist the remuneration manager or committee as well as the line managers who make salary offers to new employees.
Click here for a comprehensive guide on how to Implement Employment Equity.